Postponed – Date TBD

Denver Botanic Gardens
Freyer-Newman Center (opening soon!)
1007 York Street, Denver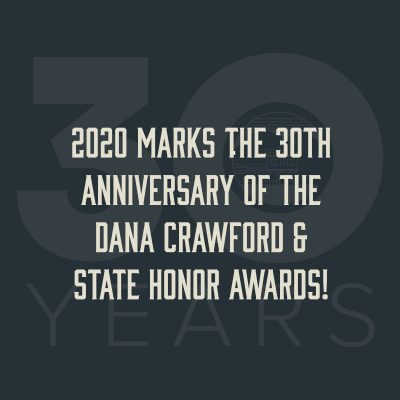 Letter from Executive Director Jennifer Orrigo Charles on 3/24/20:
Dear Friends,
Historic Preservation at its core is about people and community. CPI has always been a family and we currently are comprised of a staff of four, a board of 15, and all of you, our over 3,000 members, supporters, contributors, and volunteers who are on the ground working in your communities to bring about positive change – building a future with historic places.
It's times like these when it is very clear what is truly important. Among challenging news stories, we are hearing reports of people looking out for one another, communities working together, and reimagining ways to remain socially connected. We are all in this together and together we see the impact of every action. We are pulling together resources for our EPP sites and current projects and bringing to light the stories of Colorado's many legacy businesses.
As many of you know, May 13th CPI planned to host the 30th Anniversary of the Dana Crawford Award and State Honor Awards and celebrate the lifelong achievements of Cynthia Neely. We will be postponing this event and are working to identify the right medium and format to ensure we keep our community healthy while finding a time where we really can celebrate these projects and individuals.
Thank you all for your kind words, support, and concern over the last few weeks. We are so grateful to all of you.
Stay safe and with family.
Regards,


CPI's Dana Crawford Awards Dinner is Colorado's premier statewide preservation awards event, honoring individuals and organizations that make significant contributions toward preserving Colorado's built and archaeological history as well as saving working landscapes.
The evening's namesake is Dana Crawford, a preservation pioneer who proved that saving historic buildings makes economic sense. She embodies the dedication to preservation that CPI celebrates each year at this event. CPI is grateful to Dana for her leadership and her work saving important landmarks statewide.
2020 Dana Crawford Award
Cynthia Neely
CPI is pleased to announce that the 2020 Dana Crawford Award will be presented to Cynthia Neely, a woman who has been a leader int he Georgetown Silver Plume National Historic Landmark District and guiding force in Georgetown for over 50 years. The Dana Crawford Award recognizes not only Cynthia's life-long contributions to the preservation but the efforts of Historic Georgetown, Inc. and the passage of Georgetown's Historic Preservation Ordinance, which turns 50 this May. Cynthia was named a "Clear Creek County Point of Light" for her work on the Historic District Public Lands initiative that helped protect the setting of the National Historic Landmark District, an effort she remains devoted to today. Please join CPI in honoring Cynthia Neely and three other State Honor Award projects at the Denver Botanic Gardens in the newly constructed Freyer-Newman Center.
Additional awardees to be celebrated are:
State Honor Awardees
Artspace/Space to Create Project (Las Animas County)
Dr. Bonnie Clark (Prowers County)
DU Amache Research Project & Field School
Santa Maria Ranch (Park County)
Preservation Edge Award
Jessup Farm Artisan Village (Larimer County)
Endangered Places Progress Award
Paris Mill (Park County)
Sponsorship Opportunities
The Dana Crawford and State Honors Awards are not possible without the generous support of supporting organizations, businesses, and individuals. If you would like to know more about sponsor opportunities, download the event flyer here and be in touch.
---
Do you have a suggestion for a project or individual who should be recognized?
Please submit your idea to CPI here.
About Colorado Preservation, Inc.
Colorado Preservation, Inc. is a nonprofit organization that promotes historic preservation statewide by providing advocacy, education, outreach, and preservation services to communities and individuals. Our vision is to engage citizens across Colorado to honor and protect their heritage, to lead them to build a sustainable future with historic places, and to inspire them to prioritize the past as legacy.